Protect America's Wireless Asks T-Mobile CEO: Why Won't You Address Security Threats of Deutsche Telekom's Love Affair With Huawei?
WASHINGTON, DC – Yesterday, the Washington Post reported T-Mobile CEO John Legere and T-Mobile executives announced the proposed T-Mobile/Sprint merger last April and the very next day stayed at the Trump International Hotel in Washington. Since then, T-Mobile executives spearheading the "new T-Mobile", including Mr. Legere, have made a habit of staying at the hotel.
After yesterday's report, Mr. Legere felt compelled to respond to the concerns in a tweet. Today, Protect America's Wireless is posing a key question: why is Mr. Legere addressing these concerns, but turns a blind eye to the serious national security threats that Chinese telecom giant Huawei poses to Americans if used in the "new T-Mobile's" 5G rollout?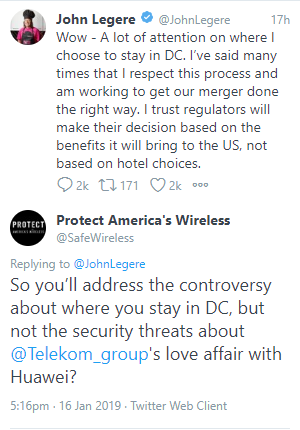 The question remains, and an answer has become even more critical as Germany has joined the long list of countries opposed to using Huawei technology in its 5G rollout, "extending the Western backlash" the Wall Street Journal reports. The German government is one of T-Mobile's biggest shareholders, as it owns a substantial part of Deutsche Telekom, T-Mobile's parent company.
Protect America's Wireless felt a follow-up was due to Mr. Legere. If one of T-Mobile's biggest shareholders can see the light on Chinese espionage by way of Huawei technology, why can't the "new T-Mobile?"